One of our girls' swim coaches uses the word "uncomfortable" as a means of helping kids gauge whether they're putting the appropriate effort into practice. I think it's the ideal descriptor, and I've adopted it in my own training.
The old mantra "No pain, no gain" is counterproductive, and "Feel the burn" is narrowly applicable (and can easily become counterproductive as well). But "Am I uncomfortable?" sets a low-risk bar for exertion that still delivers rewards (with consistent practice, of course).
Think about it. Does running a 5K feel like sitting on the sofa? Of course not. It shouldn't be acutely painful, but it's supposed to be uncomfortable by comparison. Incremental steps of increasing discomfort are the way to sustainable gains. I learned this lesson the hard way, going from stress fractures in my twenties to running a marathon when I was 40.
"Uncomfortable" applies well beyond athletics. Putting ourselves in a new situation (or finding ourselves there, not of our own accord) is uncomfortable, whether it's a new school, new activity, new job, new neighborhood, or new family member. Sometimes we fall into place easily, but usually it takes a whole lot of effort. We have to work hard and be patient to make that transition from uncomfortable to familiar. (Some situations will never be, and shouldn't be, entirely comfortable.)
Being okay with being uncomfortable is a lesson we strive to teach our kids. For example, both girls were apprehensive at their first long course swim meet. It was a new situation and a challenging one, both physically and mentally. But they were adequately prepared for the challenge, they gave it their best effort, and they did well. Their success bolstered their confidence, and they're ready to take on greater challenges in the future.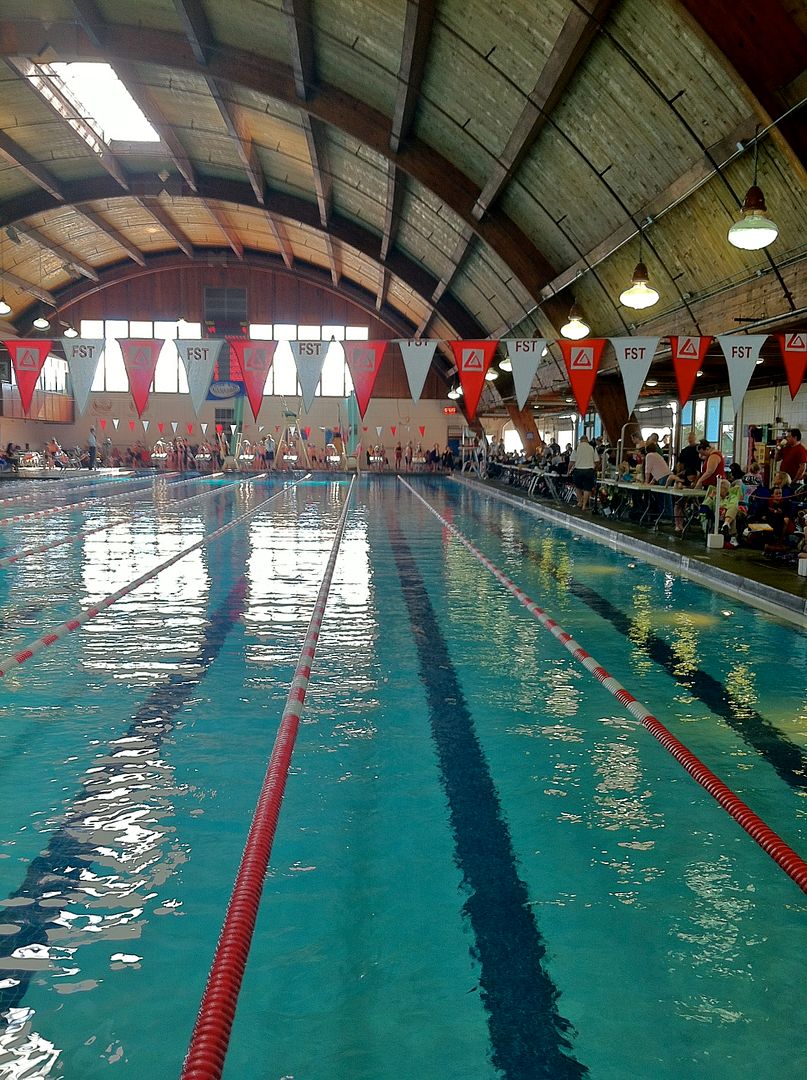 50 meters is a long way for a little girl
Likewise, our son heads to kindergarten in August. We've been preparing him for months, to help him understand what will be expected of him in that new environment. Even so, it will be a significant transition for him. Perhaps he will adapt easily; perhaps not. Either way, the newness and the associated discomfort are non-negotiable, and it will take effort on his part for school to become familiar. That's not something we (or anyone else) can do for him.
Finally, we're honest with our kids about our own discomfort and the steps we take to prepare ourselves. When I took my oldest to her recent well-child checkup, we both had to get immunizations. Knowing that I would feel the same jab and burn helped her understand that she'd survive. When we drove to a swim meet in an unfamiliar part of town, and I sailed past the right exit, both girls saw me calmly reverse course and find my way back. It's been eight years since I discovered the first yellow jacket on the inside of our family room window, and while that situation has become regrettably familiar, I've never quite gotten comfortable vacuuming them up.
But my kids know that I'll do it anyway, and that we expect them to meet their own challenges, no matter how uncomfortable they may be.
{ 2 comments }