One of the multitudes of reasons I've cited for the proliferation of parent bloggers is the community we've created. We all doubt ourselves at times, even after years of being on the job, and it's reassuring to connect with others who struggle similarly. As my dear friend Kristen has written, if we're worried about screwing up our kids, we're already ahead of the game. Caring about the impact of our parenting is the first step toward parenting well.
Yesterday we visited the Archdeacon Rubona Church of Uganda in Fort Portal for their Family Health Day, where the Ven. Rev. Peterson Rwakiza Kuganza welcomed us warmly (I even got a hug) and invited us in for services. (Church services, not vaccinations. I took care of those before I left the US.)
Perched on a pew that was more like a 2×4, I looked around me as the service was conducted primarily in the native language. The interior of the church was painted almost a Tiffany blue, and green and white bunting and silver holiday garlands were strung from wall to wall. Members continued to trickle in and find seats in the crowded pews.
One mother, wearing a turquoise two piece suit and carrying a baby bundled up as for a blizzard, settled in front of me. Sweat rolled down the back of her neck, where her hair was neatly plaited and tucked into a tiny bun. The baby, who was eventually unwrapped to reveal his (her?) outfit, was likely around six months old, dressed in a blue fleece hat and blue fleece buttoned jacket and pants. He had been swathed in a sheet printed with red, green, and blue teddy bears, chicks, and stars, plus the words Rose, Lemon, and Egg (and the corresponding pictures). Over that came a white eyelet blanket edged in lace, and a quilted pink and white velour blanket as well. She took out a neatly folded white cotton burp cloth with a crocheted edge, and wiped the ubiquitous baby drool from his mouth.
When mothers and children got up to assemble at the front of the church, one tiny white sock fell onto the floor. Ever alert to lost articles, I picked it up and put it back on her pew. When she returned, I handed it to her, and we smiled at each other — two mothers who know the irritation caused by the disappearance of socks.
After the service, the church members filed into the yard and began lining up for services. I lost the mother who'd been sitting in front of me, but I was soon introduced to Florence and her children Noble (4 year old boy), Denick (2 year old girl), and Daniel (2 week old boy). Florence is twenty-six, and she had all three children's health cards in hand. Both she and her husband had been previously tested for HIV and are negative. Her older two children have been fully immunized, and she received antenatal care three times during her latest pregnancy before giving birth in a hospital.
Florence and her children (top left); Rosemary and four year old daughter Juliet (top right); mother and children ages seven, four, and two months (bottom left); Florence and me (bottom right)
Dr. Richard Mugahi (who translated for me) is one of two doctors in this health subdistrict of Kabarole — two doctors serving 200,000 people — and he proudly characterized Florence as a model mother. Where it comes to her children's health, she has done everything she can to give them a shot at life. She proudly displayed her children's health cards for a photo, and then she indicated that she wanted to have her photo taken with me. I was genuinely touched.
As members finished receiving services, the reverend asked the church's Mothers Union to gather with us. They pulled two pews into the yard so that we could all sit, our two groups facing each other, and talk.
The church was constructed in 1924, and the group was formed then too. They have around 100 members and meet on Tuesdays, walking from one to five kilometers to reach the church, where they work together on handicrafts, gardening and farming — "income generating activities…[and] proper nurturing of children" as one woman told us.
Her name was Prossy, and although she didn't identify as the group leader, she spoke as a confident authority. She's a single mother of eight children and three grandchildren, and she's also a P1 teacher with 86 students.
Prossy told us that while most mothers strive to ensure their children are fully vaccinated, HIV/AIDS and malaria are the top health priorities among the mothers in their group. The stigma of being HIV positive remains, and treatment requires travel, which costs money and time. Misinformation and mismanagement of malaria treatment is a problem as well, with people seeking out treatment by witch doctors in secrecy.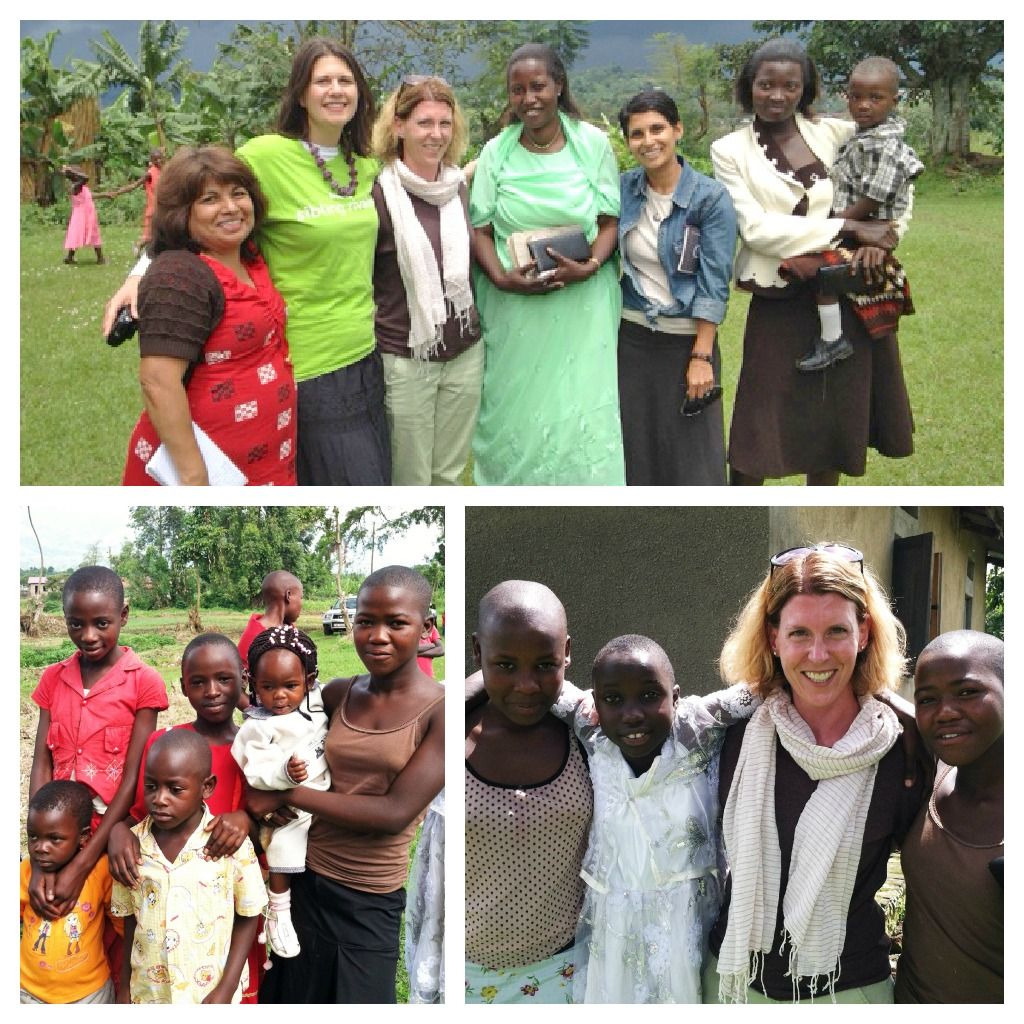 Shot at Life delegation members, plus Prossy and her daughter and grandson (top), children clamoring for us to take pictures and to join them in pictures (both below)
 Even after our group discussion broke up, Ilina and I continued chatting with Prossy. Her manner was assured and inspiring — she's clearly an educated woman, filled with drive and determination. As a teacher, she has access to email, and I hope to keep in touch with her to learn more about progress in her community.
These three mothers are just three of many, in Uganda and around the world, who care deeply about the impact of their parenting. While we may concern ourselves with different specifics, the common denominator is that of health and happiness.
–
I'm currently on an observation trip to Uganda with Shot@Life and the UN Foundation. Day 3 will be coming soon, along with some related socio-political editorial commentary (no surprise, right?).