On our final day in Uganda, we sat around a conference room table with Mme. Onochie and shared our takeaways from the trip. I was the only one of us who didn't need to break out the tissues. Even now, if I well up when thinking about our visit, it's because I feel so good about the progress being made in Uganda.
[Edited: Let the record reflect that Cindy Levin also remained dry-eyed. Jennifer Burden must have gotten Cindy damp; hence my confusion.]
Yesterday I presented a slideshow to CJ's second grade class, and today I did the same for Tacy's fifth grade class. Breaking down my discoveries into elementary school age-appropriate chunks has helped me digest them myself. In doing so, I clearly see the self-reliance of the Ugandan people and the hope they share.
Yes, they live very differently than we do. But I live very differently from many people in my own country — from families in rural communities to those in Bel Air or on Park Avenue. Am I to feel superior or be pitied for my standard of living? I'm happy. So are midwestern farmers, Nantucket beach house owners, and children in Uganda whose parents are dead and who must contend with threats to their mental and physical well-being that we have difficulty comprehending.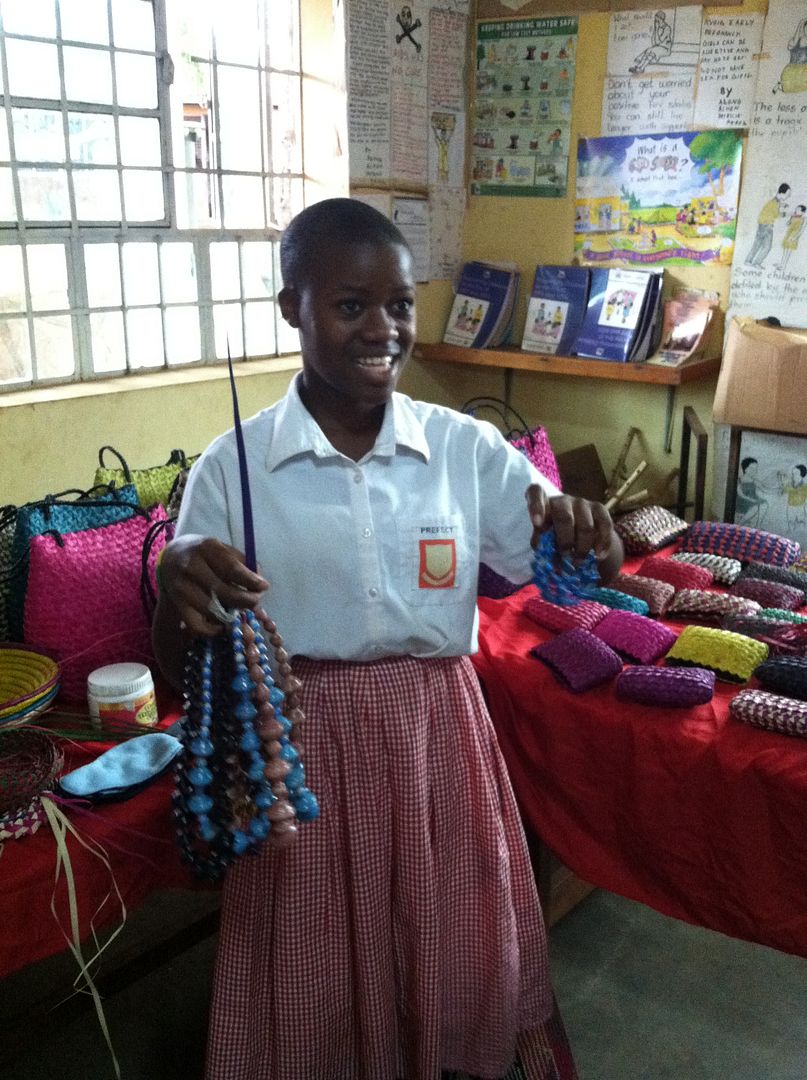 This beautiful girl is undeniably happy, and she has many reasons to be
My happiness is not yours to define. Neither is that of any peoples whose ways we may not understand.
I continue to marvel at the simple and elegant means of bringing health care services to the people of Uganda via their religious services. That's not an example of white people swooping in to take care of what they perceive Ugandans cannot do for themselves. It is Ugandans doing for themselves. That's why I see hope there.
I continue to check Ureport daily, to see how many new Ureporters have joined and what information is being gathered and disseminated. Again, it's a simple and elegant means of reaching out to the people and listening to them in return, and it's got nothing to do with us and everything to do with the Ugandan people. Ureport demonstrates hope and progress.
Even with the discovery of oil in Uganda and the potential for conflict to arise, I have hope thanks to Mme. Onochie, who knows what oil did to her native Nigeria and is determined to avoid such ends in Uganda.
Kenya and Tanzania are known tourist destinations, and Uganda should be too. My friend and fellow delegate Ilina, who has a far cooler camera than I do, captured some amazing photos during a tour of the Kazinga Channel. The western portion of the country, near Fort Portal, was lushly green and mountainous. The food was delicious, and the people were warm and kind. It was a lovely place to visit, and I would gladly return.
The Uganda I visited is not the one portrayed in the Kony 2012 video. I spent some time talking with our UNICEF Uganda host Miriam Lwanga about Kony, and how I can help correct the misinformation being spread.
She directed me to a response from the Ugandan Prime Minister, and explained that Kony and the Lord's Resistance Army fled Uganda six years ago. The war ended six years ago. The people of Uganda have long since returned to their homes and their work, and their children have returned to school.
The Kony 2012 video presents an inaccurate picture of Uganda, and it is one that harms the country and its people by inciting fear. Furthermore, "making Kony famous" is a goal that Kony himself would share. The video has been a win for Invisible Children's coffers and for Kony, not for Uganda and its people.
Reflecting on my trip, I'm increasingly aware of just how rare an opportunity I had — to visit another country not as a tourist, but as a guest; to be invited into the most private and personal spaces — homes, schools, places of worship. The Ugandan people confided in me: I saw their children measured to check for malnutrition, I watched them line up to be tested for HIV, I asked them questions and they answered with warmth and candor. I feel an enduring responsibility to treat their confidences with respect and to honor their dignity as fellow humans.
–
I spent five days on the ground in Uganda on an observation trip with Shot@Life and the UN Foundation. All opinions voiced above are my own and shall not be attributed to any organization or employer.