Some of the most mind-boggling sights I saw in Uganda were at Railway Primary School.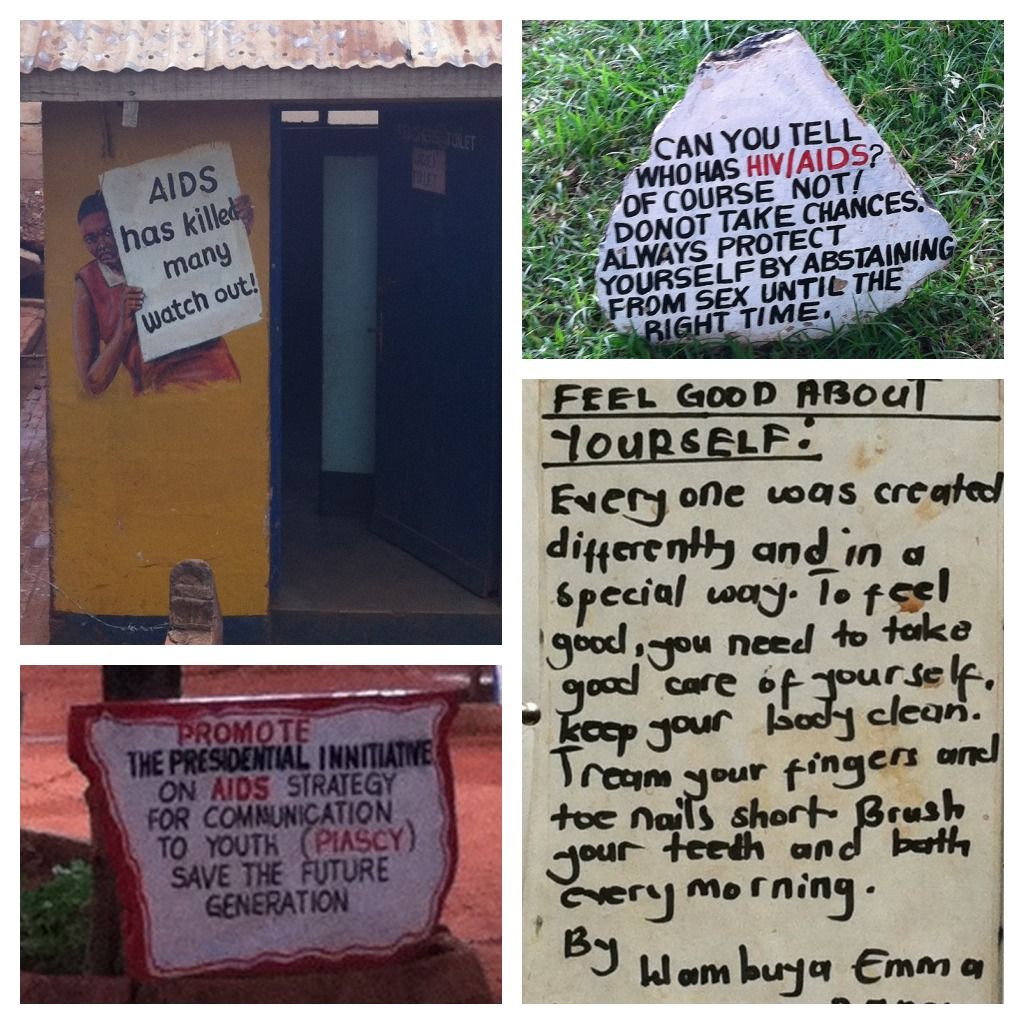 Mural outside girls' toilet (top left), decorative stone outside headmistress' office (top right), decorative stone in center of school yard (bottom left), health and well-being guidance authored by P7 student (bottom right)
While I spoke to the kids at our elementary school about the Ugandan children's focus on health, I limited our discussion to vaccinations and general personal cleanliness. I talked to my own kids though, about the reality of HIV/AIDS in Uganda and its effect on children and families. The pervasiveness of anti-bullying discussion in the US is matched in Uganda by discussion of HIV/AIDS.
We worry about our kids' class sizes and the cost of their orthodontia. Ugandan parents worry about their kids receiving basic vaccinations or being infected with HIV as a result of defilement, early sexual activity, or mother-to-child transmission.
Uganda has been held up as a model in the fight against HIV/AIDS. While infection rates have increased slightly in the past five years, they've continued to make great strides in prevention of mother-to-child transmission (PMTCT). From HIV/AIDS charity AVERT: "By 2010, the proportion of all pregnant women tested for HIV had substantially increased; from only 1 in 5 in 2005, to nearly 2 out of 3 pregnant women." Uganda has also adopted WHO guidelines for PMTCT and modified them as recommendations have changed, from a single dose of ARV for mother and newborn, to lifelong ARV therapy plus counseling for the mother.
However, Uganda still faces many challenges in PMTCT, including the high birth rate (encouraged by President Museveni) and limited access to health clinics and antenatal care in rural areas. According to AVERT, "20 percent of new HIV infections in Uganda occurred through mother‐to‐child transmission, although this figure may be higher as many births in Uganda take place outside healthcare facilities."
Worse yet, while nearly half of adults eligible for ARV therapy (those who have tested positive and are "in the system") are on a drug regimen, less than 20% of HIV-infected children are treated. Availability of treatment is a factor, of course, but so is stigma: "[M]any parents live in denial about their child's status."
So much good work is being done, particularly in sub-Saharan Africa, to provide and encourage HIV testing, to educate people regarding prevention of transmission, and to supply ARV therapy and counseling to those infected. Ultimately, governments like Uganda's must make HIV/AIDS prevention and treatment programs a national priority, and create and maintain service delivery channels, as they have done with the innovative simplicity of Family Health Days.
For more information, check out ONE, the UN Foundation, and the Global Fund.