Most people get a break from baking and creating after Christmas. Me, I get a two week respite in which my two younger children decide (and decide again…and again…) what sort of birthday cakes they want.
This year, matters were complicated somewhat by the addition of a daughter-on-loan whose birthday immediately followed the other two. And then of course there's Valentine's Day, which further complicates matters thanks to all the cool stuff I find on Cool Mom Picks (and Pinterest, natch).
You know what I'd really like to find on Pinterest? An extra six hours in every day.
First up, CJ's birthday. "Surprise me!" she said. No special requests; I could have made her a plain old chocolate cake with chocolate frosting and a number 8 candle, and as long as she got to blow out the candle without Oliver trying to beat her to it, she would have been happy.
But no. I had to extrapolate from an idea I saw on Pinterest wherein some overachiever dyed waffle mix in rainbow colors. Given how many leftover waffles have met a violent end in our dispos-all, that idea was a total non-starter. Rainbow cake, however…
Messy. Very, very messy. I spooned white cake batter into six plastic baggies, squeezed drops of food coloring into them to achieve the desired vibrancy of color, and snipped the corner off each bag in turn. Red, yellow, and blue on one layer; orange, green, and purple on the other.
I was genuinely shocked at how well it turned out. And of course CJ loved it.
Next up, Oliver's birthday. For months, the child told anyone who would listen that he was having an Iron Man birthday party at Jump Street. If you were on his good side at the moment, you were invited. If you pissed him off, your invitation was summarily rescinded. No jump for you!
He did specify that the cake should be chocolate, and as the big day approached, not only was the cake supposed to have Iron Man on it, but also Hulk Smash and the whole Super Squaddy Pack O' Heroes (or whatever). I took to responding to his cake specifications with "we'll see," which he hates almost as much as "maybe."
I frosted a yellow Iron Man face onto the surface of the cake, following the clearest and simplest Google image search result I could find. Then I started squeezing red food coloring into a tub of white icing. I squeezed until it was all gone, and the icing was still pinkish.
Pink frosting on an Iron Man cake? That simply would not do. So I called across the street, brought home a borrowed bottle, and promptly used the entire thing trying to satisfactorily reddify the icing.
It was as red as it was going to get, so I slathered it on the rest of the cake, and attempted to create the rest of the Iron Man mask with white cookie icing and black gel. My Instagram and Twitter followers told me it looked like Arthur.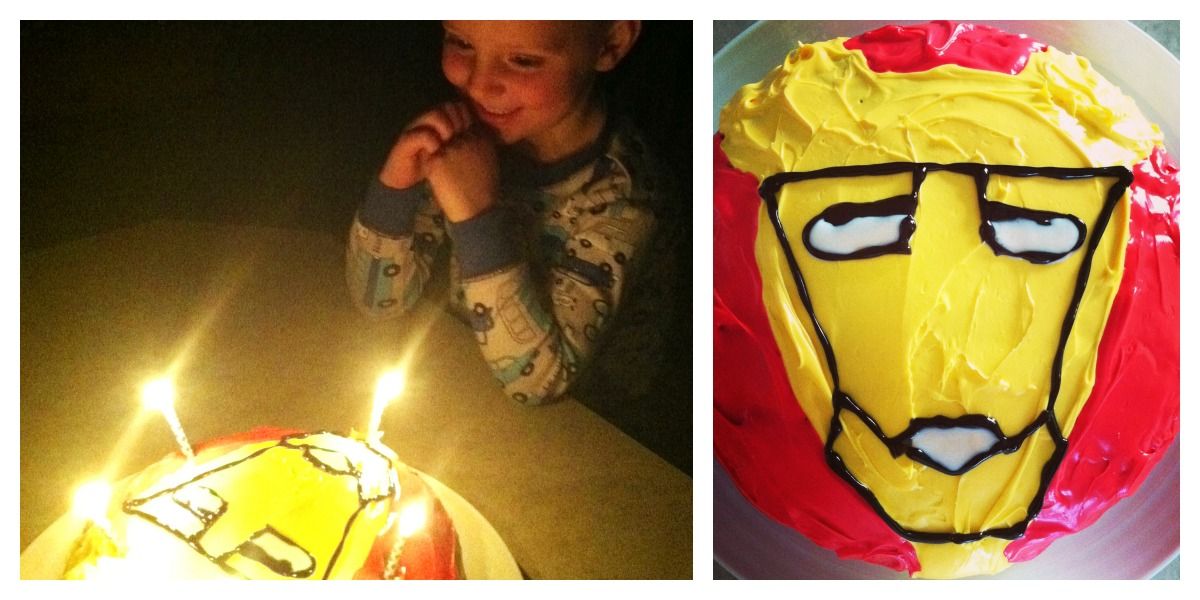 Oliver recognized Iron Man immediately, though he did inquire as to the whereabouts of the rest of the squad. There's no fully pleasing a five year old.
Sohee got some friends to supply her with a birthday cake, so all we had to pony up was Chinese take-out. My kind of birthday request.
Finally, yesterday was Valentine's Day. I could have grabbed a couple boxes of licensed character cards, or turned the girls loose with doilies and construction paper again this year, but when I saw the Minecraft printables created by my friend Tania, I knew CJ would lose her mind. Because not only were they Minecraft-themed, they were cootie catchers. CJ's classmates beg her to make cootie catchers the way my classmates used to beg me to solve their Rubik's Cubes.
While Tacy plays Minecraft too, she was meh on the idea of Minecraft-themed cootie catchers as Valentines. So I downloaded a cool free font (found on Pinterest, again), grabbed a photo of a kickboard, and used the line she gave me ("I get a kick out of you!") to create a PDF in Photoshop. Then I taught her to fold them the way we used to fold notes in high school.
All of that was the easy part. The hard part were the classroom treats.
The tutorial didn't look hard, or else I would never have taken it on. Fruit roll-ups, a biscuit cutter, and some strips of paper. Breezy, right? And so cute!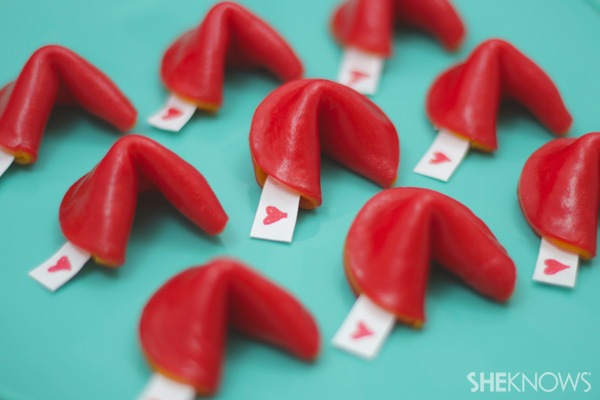 One, it's not all that easy to make up fortunes for elementary school kids, even if they aren't inclined to tack on "in bed!" at the end. Searching for "fortune cookie sayings" results in a bunch of Help! I'm trapped in a fortune cookie factory! groaners.
Two, fruit roll-ups aren't perfect squares, nor are they large enough to yield four layers of circular cut-outs. And because kids apparently can't just eat shiny, smushed fruit, they now feature inky doodles.
(I looked for alternatives, like Fruitabu, but they came in one-inch strips and were twice the price. Pass.)
Three, fruit roll-ups aren't as easily molded as they might seem. I'd shape them into cookies with fortunes tucked neatly inside, set them in rows on waxed paper, and they'd slowly lose their shape and fortunes would come fluttering out. I ended up squishing them into triangles, like formally-folded napkins.
What to do with the remains after cutting out the circles? I put them in a bowl, nuked them for a few seconds, and then rolled them out by hand. My mother used to complain when I'd get sugar cookie dough stuck on her rolling pin. I can only imagine how she'd feel about ground-in emulsified fruit.
Three hours and sixty fruity fortune cookies later, I brought the bags to school. It was all worth it (okay, mostly) when the girls and their teachers were totally amazed by the treats.
Next up, my birthday. A store-bought cake will do just fine, thanks. I'll even buy it myself.