I write a lot about health and fitness, particularly our personal commitments to eating well and training hard, but it would be fair to ask whether our kids follow our example willingly. Given a package of Oreos and a bowl of fruit, what would they choose?
Honestly, I'm not sure. That's how much fruit my kids consume.
It started with Tacy in toddlerhood. On grocery trips, I had to wait until I was ready to check out before grabbing a bunch of bananas. Otherwise the child would slump over in the cart and moan "Buh-nuh-nuh!" throughout the store. I'd hand the cashier the bananas to be weighed, then take them back and hand one to her right there in line. No need to bag the bananas, thanks.
A pound of strawberries can disappear into one child in a single sitting. A three pound bag of clementines can be reduced to a few lone fruits during an afternoon of crafting. I only buy raspberries and blackberries when they're on super sale, because they're gobbled up like MnMs. (Except MnMs don't fit on fingertips like little hats.) I recently bought a honeydew melon, and they pestered me to slice it up as soon as they spotted it. When Kyle and I tried to set aside a few chunks for ourselves, Oliver protested.
They eat many vegetables happily too: A bag of frozen peas feeds three kids. Same for broccoli. Oliver downs Roma tomato slices like cookies. Vegetables are eaten plain — no cheese sauce or dip.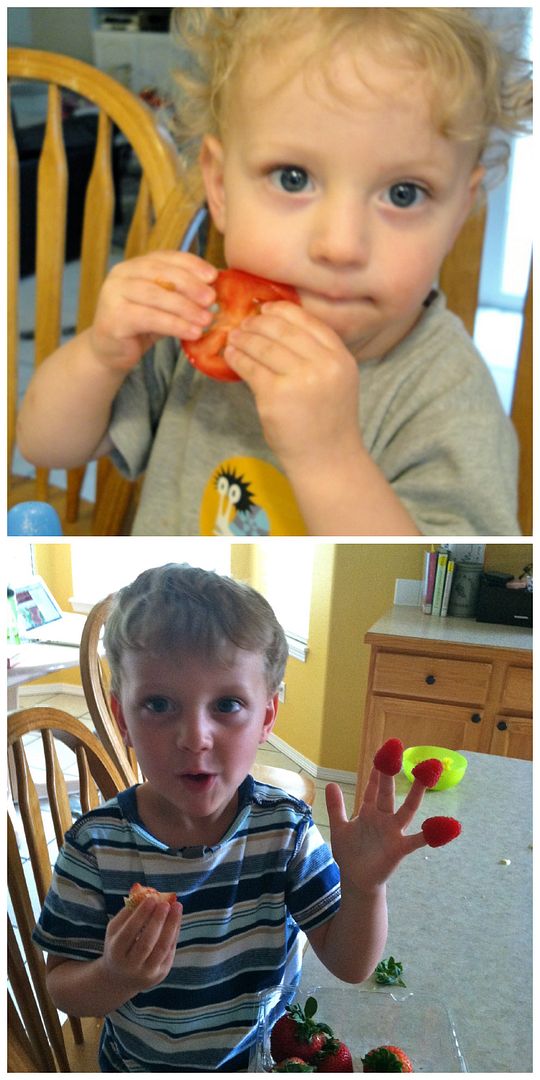 How did we get them to eat like this? Maybe it's that we just don't have many sweets in the house. Maybe it's that I only bake occasionally. Maybe it's that we eat all of these healthy foods ourselves, because Kyle and I need the good energy they provide for our own training. Maybe we're just lucky.
In any case, while most families run to the store for bread and milk, we run to the store for another bunch of bananas and a bag of apples (Honeycrisp or Pacific Rose preferred, Fuji in a pinch, Granny Smith for baking).
All of this is to say that we've increasingly needed more space to keep all the fruit we buy. For a while I used a serving bowl, but I cringed every time I heard Oliver pull it over to the edge of the counter so that he could grab a banana or clementine, certain that it would topple onto the floor and shatter. I needed a new solution, if only for my own sanity.
On my trip to Uganda last year, I admired all the gorgeous kitchen items in the market, especially the fruit baskets and bowls. I opted to go a little nuts buying jewelry instead, reasoning that it would be much easier to stash in my suitcase. My cowhorn earrings garner tons of compliments, as do my wooden bangles, and I brought my aunt a long beaded necklace fashioned from coconut shells as a token thank you for staying with my fruit-eating kiddos while Kyle and I were both gone.
So when The Mission List offered an opportunity to shop at Indego Africa, I went straight to the Home section. And while I was tempted by the woven baskets (Tacy would love this mini one for her room!), the wooden fruit bowls with woven edges leaped out as the perfect place to store all that fruit. Jumbo size, of course.
Know what's really awesome though? When the bowl arrived and I set it on the counter, all of my kids noticed it immediately and told me how pretty it was! Seriously — kids that willingly eat fruits and vegetables AND notice new kitchenware?! I must be doing something right.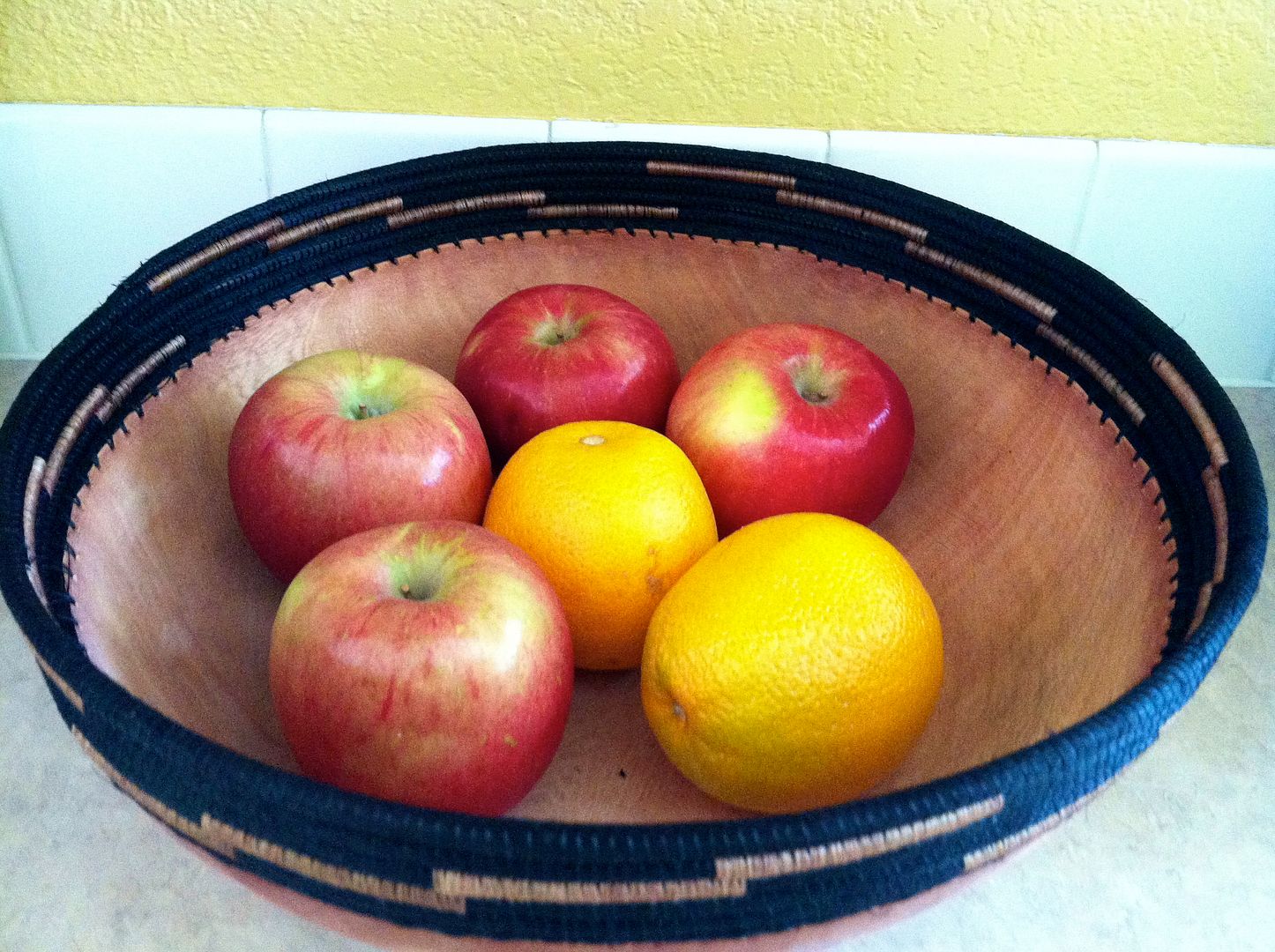 Obviously I need to go to the store.
 Sure, I could have bought a bowl at Target months ago. But it makes me happy to put my money where my mouth is and support a developing community in a way that benefits us both. As Ugandan native TMS Ruge told us last fall at the Social Good Summit, the African people want trade, not aid. By supporting Indego Africa, I'm giving agency to African women who can make a productive living, support their families, and in doing so set an example for their children.
Kind of like our own commitments to eating well and training hard. We're not so different after all.
Disclaimer: The Mission List offered me a $75 GC to shop at Indego Africa, with the understanding that I would tell my readers about my purchases. The fruit to fill the bowl and the gushing I've done above are all mine.